Tiny Teapot Jewelry - A Charming Tradition
Tiny Teapots are our contemporary revival of a charming British tradition. Generations of British ladies adorned their charm bracelets with colorful miniature teapots, symbols of that most beloved of all British traditions, Tea Time. These delightful teapot charms were worn with pride and later became treasured heirlooms. It was love at first sight when we discovered our first teapot charm at an antique shop in Glasgow, Scotland many years ago. Little did we know then that the red crystal teapot would serve as the inspiration for developing the world's largest selection of hand crafted Tiny Teapot Jewelry.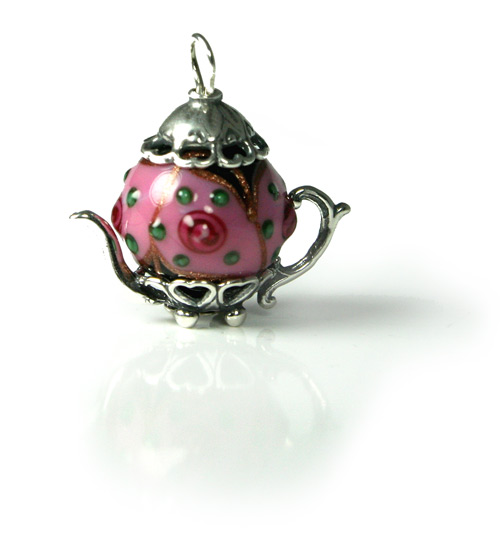 With our many style refinements and accessory additions over the years our Tiny Teapots are no longer limited to simple charms for bracelets. Now, many sizes and styles are available to be worn as pendants, earrings, or attached to any number of our pins. We proudly incorporate some of the most beautiful beads in the world in our Tiny Teapots. As you explore our web site you'll enjoy finding Tiny Teapots lovingly hand crafted with dazzling Swarovski Austrian crystals, colorful lamp work glass beads, fabulous rose motif Japanese Tensha beads, handsome Balinese style sterling silver beads, charming blue and white Chinese porcelain beads, and many others including rare, exquisite vintage beads.
If you love beautiful beads, if you enjoy wearing unique jewelry, and if teapots delight you, simply continue your journey into the wonderful world of Tiny Teapot Jewelry! Thank you for visiting our web site. We appreciate your visit and assure you that we will take care of your order promptly.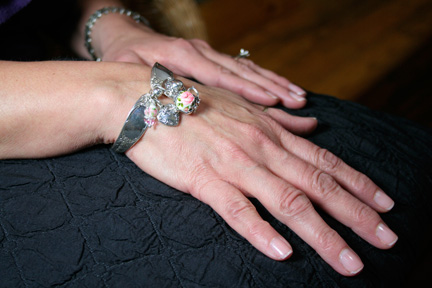 For many years we scoured antique fairs and shops in Scotland, England, and Ireland searching for vintage jewelry treasures. It was truly love at first sight when we discovered our first teapot charm at an antique shop in Glasgow Scotland, years ago. Eventually other teapot designs surfaced. I wore a teapot on my charm necklace along with 70 other charms but that teapot was the one everyone always asked about and wanted to buy. We knew then that we had to revive the tradition for others who may find Tiny Teapots irresistible. After several years of refining the original concept we take great pleasure in introducing Tiny Teapots to a new generation of teapot lovers.