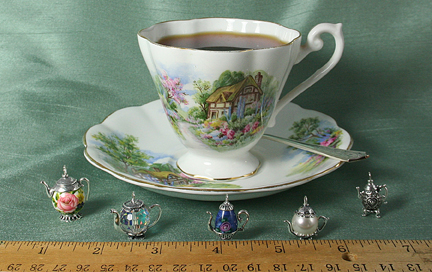 We are pleased to offer five basic styles and several sizes of Tiny Teapots in both sterling silver and vermeil (gold plated sterling silver). We hand assemble every Tiny Teapot using a head pin which runs from the bottom of the teapot THROUGH the bead passing out through the top where it is then skillfully formed into a loop which is inserted back into the top to secure it. The result is jewelry that is quite sturdy and with rare exceptions requires no gluing. Our Tiny Teapots are photographed here with a cup/saucer and spoon as well as a ruler to demonstrate their actual size as well as their relative size to each other. They are displayed in descending order of their size from left to right. A large collection of our better selling teapots is available on our web site. Additionally we stock hundreds of beads not shown and our beads constantly change so please call us at 540-586-4446 to inquire about other Tiny Teapot possibilities.

Large Two Piece Tiny Teapot: (above picture - left) We created this Tiny Teapot using a bead set between two sterling silver parts - a top with its spout and handle and a separate lattice work foot/bottom. We normally use 16 mm beads in this, our largest Tiny Teapot, but occasionally find 18, 20, or larger beads that are stunning in this style. These large 16mm+ Tiny Teapots work best on our box chains as single necklaces/pendants. If you prefer wearing brooches and select this style teapot, we suggest you consider ordering our exclusive Sterling Silver bow pin. Occasionally one of these large Tiny Teapots is used as the centerpiece of a charm bracelet. When not being worn as jewelry, some customers display these in a window sill, shadowbox, doll house, or hang them as ornaments on a miniature tree.

Large Single Piece Tiny Teapot: (above picture - second from left) Our second largest Tiny Teapot is made by inserting a 14mm bead into a single teapot finding. Observe how the spout flows down to the bottom which is attached to the handle which connects to the top, thereby using one piece of sterling silver to create this lovely teapot. This larger Tiny Teapot style works quite well as a pendant/necklace and as a charm on a bracelet. For those wishing to wear it as a pin, we suggest ordering it on our exclusive Sterling Silver Bow Pin.
Teardrop Bead Tiny Teapot: (above picture - center) For those seeking a departure from Tiny Teapots with round beads we offer a few teardrop shape lamp work glass beads that fit nicely into our long tall two piece Tiny Teapots. These are best worn as a pendant or attached for as a charm to create an unusual addition to a bracelet.

Medium Bead Tiny Teapot: (above picture - second from right) Our extremely popular medium Tiny Teapot is made with a 12mm bead set between a lovely filigree pattern top and an endearing heart motif bottom. This teapot style and size makes an ideal pendant or as a perfect addition to any charm bracelet. We use this medium Tiny Teapot on our Victorian Dangles and many of our most popular pin styles. It truly is as versatile as it is beautiful.

Small Bead Tiny Teapot: (above picture - far right) This absolutely charming Tiny Teapot (our smallest!) is made with a 10mm round bead set between a top with a handle and spout and a separate footed bottom. Occasionally we use a teardrop bead that looks really nice in this style as well. We use this extremely versatile Tiny Teapot in every format we offer as they are an ideal size for earrings, charm bracelets, and pins. For those ordering jewelry for children or grandchildren, these Tiny Teapots are the TOP choices for pendants.
Adults who prefer wearing smaller pendants often choose this style as well.
For Shipping information, click here.